Since the IoT Week 2017 in last June, our team has gone through an intense period of software development and ramp up of activities with the new partners from our first Open Call.
New functionalities in our symbIoTe Core software
In the last 8 months we've gone through an incremental availability of features in the core software components of the symbIoTe framework. The symbIoTe Core Release 1 (released on February 2017) included support for sensors exposed over an OData-like REST-based interface and basic registration and search features. Our  Release 2 (issued on May 2017) added support for actuators, platform-side monitoring and basic security-related features (token based access control), also implementing the Level-1 compliance with 5 IoT platforms. The latest Release 3 has been delivered on this September 2017. During the summer we completed the feature set required for  the Level-1 and Level -2 compliance and released: platform-specific information models (BIM, Best-practice Information Model); ranking and filtering of sensors/actuators search results; ABAC (Attribute-Based Access Control) security features offered by a re-designed Security Handler library; procedures and resource access policies to create platform federations. Future work will focus on Domain Enablers and Smart Space components. Check our progresses out now in GitHub at SymbioteCore and SymbioteCloud!
5 IoT platforms integrated with symbIoTe Core

Based on software Release 2, the team has consolidated and demonstrated the symbIoTe Core Services at IoT week (Geneve, June 2017) and at the IoT cluster EC review (Athens, September 2017). Five IoT platforms have become symbIoTe L1-compliant and are operated in our federation: Symphony by Nextworks, OpenUWEDAT by Univ Wien, OpenIoT, openHAB and Node-RED.
On-boarding the new partners and platforms from Open Call 1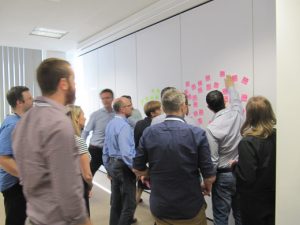 To more easily on-board the partners from the three projects selected with our 1st Open Call (OPTIONSNET for SaMMY, TERRACOM for QR-Patrol, Fincons Group for SymSound), we have established dedicated Support Teams. Our tutors are in continuous contact with the new partners, tutoring them on technical, security and business matters. An initial remote briefing occurred between the symbIoTe supporting team and the new partners on June 1st 2017, followed by a face to face meeting in Poznan on July 6th 2017 in which integration for L1 compliance and implementation of workplans have been discussed.
Developments and integration of IoT platforms into symbIoTe are continuing at full speed. Stay tuned for further news from us!